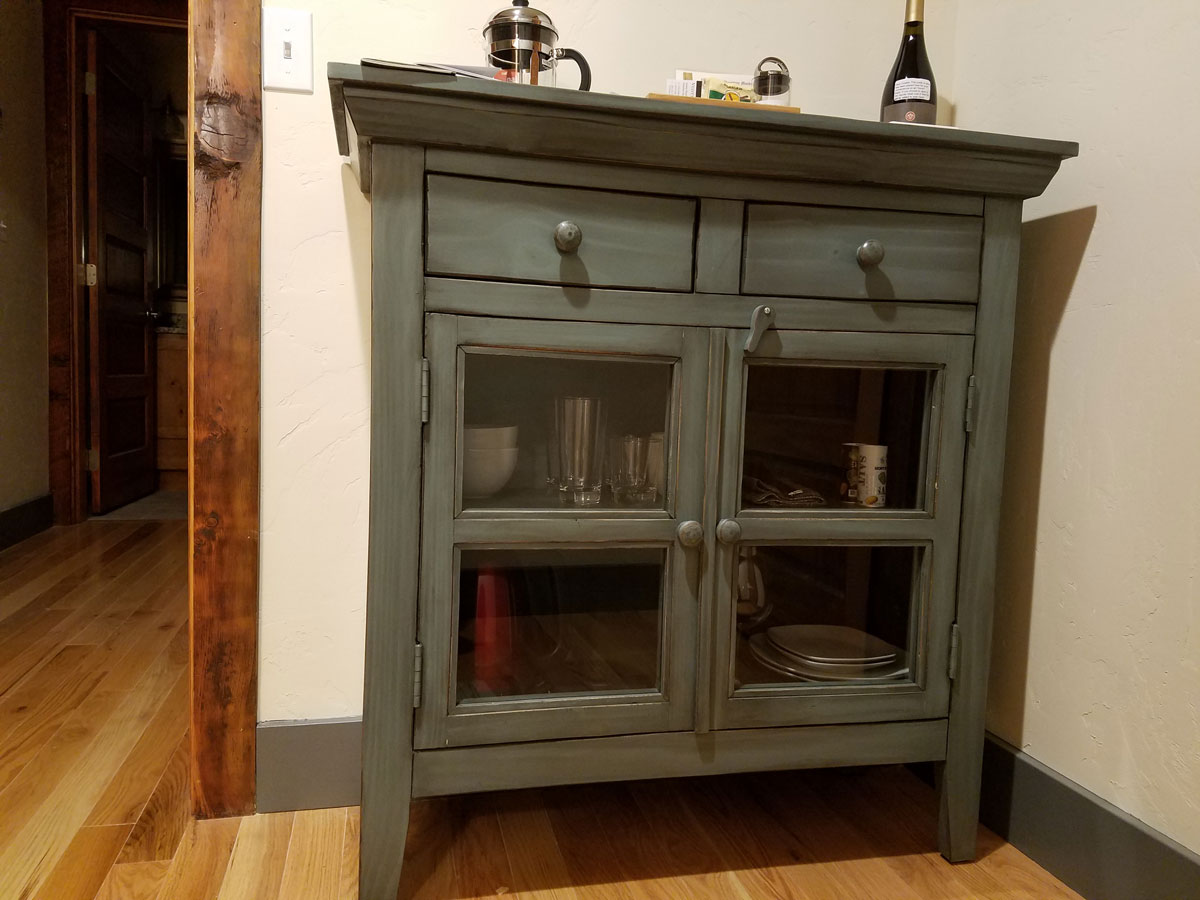 The Bellpine Flat is a hotel-style room with queen bed that is designed to connect with Willakenzie, creating a two-bedroom, two-bathroom suite for families and couples who are traveling together, or to serve as a stand-alone room. Although this is the only flat without a kitchen, a Keurig coffee maker with coffee pods and tea are stashed in a cabinet. Bellpine is an interior Flat and does not have windows.
Tall ceiling and remote-controlled ceiling fan
HD TV with complimentary Netflix access
Complimentary high speed WiFi
Luxurious, high-thread-count sheets
Keurig coffee maker with assorted coffee pods
Complimentary bottle of pinot noir from the owners' vineyard in the Eola-Amity Hills
Complimentary fudge or chocolate
Bed and finishings custom-made from wood reclaimed from the building
Heated and cooled with highly efficient HVAC system
High-quality soap, shampoo, conditioner
Hairdryer in room
Steamer/iron/ironing board available on request
Free, off street private parking
Free, secure, indoor storage for bicycles
Building is solar powered
DIRECTIONS & PARKING
CHECK IN & CHECK OUT
Check in: Any time after 4:00 pm
Check out: no later than 11:00 am without prior agreement.
Before arrival, guests will be provided numeric access codes for entering the building and the room and, if secure bicycle storage is requested, for that storage area. On arrival, you may simply use the codes to access your room. If you have any difficulties, please call or text the owners at 541-908-2515. Amity Flats LLC is entitled to charge for another day if the rented rooms are not vacated on time. Early check-in is possible but not guaranteed.
EXTENDED STAYS
We welcome guests for extended stays and we're happy to offer significant discounts. Please contact us for details. If you book your room(s) through the website, these discounts will not show up, but we will adjust the rates manually. Housekeeping is provided weekly for extended stays, although you may arrange for additional housekeeping for an additional fee.
POLICIES
Must be 21 years of age. Please note that rates and availability are subject to change and vary by season and day. We reserve the right to change rates and amenities without notice. All rates are double occupancy and are not guaranteed until the time of reservation.
Accessibility: We welcome guests who have special needs. The Yamhill Flat is appointed to ADA specifications. A lift is available to transport guests in wheelchairs and to move luggage from the ground floor to the Flats.
Cancellation Policy and Payment: When you book your reservation, you will need to provide a valid credit card. Your credit card will be charged for your bill after you arrive, but no deposit is required. If the reservation is cancelled more than 14 days in advance there will be no cancellation fee. If the reservation is cancelled in 14 days or less, we will charge for the first night unless another visitor books the room for the nights of your stay. Amity Flats reserves the right to impose additional charges if there are damages, additional purchases, or policy violations. We accept VISA, Master Card and American Express.
Damages: An inventory list is provided in each of the rooms, and housekeeping will check the inventory when you leave. You will be charged for any missing items or damages. As fire safety is of the utmost importance, a $500 fee will be assessed if smoke detectors are disabled or tampered with.
Maximum occupancy: The maximum occupancy for any of the rooms is five persons, including for social events such as in-room meals. This is a fire safety requirement. Special arrangements may be made for entertaining larger groups. Please contact us for details.
Minimum Stay: There is a two-night minimum on weekends, April 15-October 15, and during holidays and special events.
Smoking: Smoking is strictly prohibited in any of the Flats or anywhere on the premises. Violators will be charged for cleaning or replacement of items that cannot be cleaned, and an additional charge will be added for any days that rooms are not available to future guests due to smoking.
Pets: Pets are not allowed at Amity Flats except as required by law for persons with disabilities.
Cancellation Policy: A full refund will be made on any reservations that are cancelled at least 30 days prior to the date of arrival. For cancellations within 30 days, the guest is responsible for the full value of the reservation unless we are able to book the room to another guest, in which case a full refund will be made. Shortening your stay is considered a cancellation.
bellpineflat
RESERVE THIS ROOM
Sleeps 2
$110 weeknight, $125 Fri&Sat (High Season); $100 weeknight, $115 Fri&Sat (Low Season)